The Chiropractors at the Springfield Wellness Center Smoking Cessation
AURICULAR THERAPY FOR SMOKING CESSATION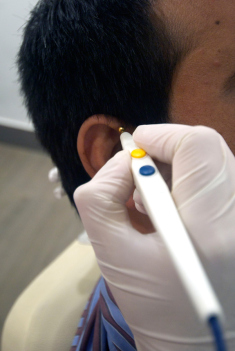 Auricular Therapy, often referred to as auriculotherapy, or in our case, electro auricular therapy, is a tried and provenly effective painless technique used for many medical conditions with one specific protocol designed that allows a person to quit smoking by soothing the nervous system, greatly reducing cravings, and thereby boosting the will power. It is a safe and pain-free treatment of the outside of the ear at multiple acu-points with a mild electrical stimulation
Are you Willing to Commit?
Electro Auricular Therapy will only work if you are willing to commit to the process and are ready to QUIT smoking. We often get calls from people who want their loved one to quit and our response is always the same "How do THEY feel?" It is imperative that the person wants to quit smoking. This program helps many people successfully quit smoking and can help you too!*
*Individual results may vary
Auricular Therapy is the most effective way to stop smoking today.
Your practitioner will use a hand held device to apply a very light electrical stimulation to precise acu-points on your ear. By stimulating these acu-points we get in the way of messages sent to the body by the brain that want more nicotine. By blocking these signals, we disrupt the addictive process. Virtually everyone will experience relief of cravings immediately after just ONE treatment! Generally the treatment reduces cravings from multiple cravings per hour to only 3-5 a day. The treatment takes 30 minutes, has no known side effects and is remarkably effective for most people.*
*Individual results may vary
Call the office for more information on this effective treatment!
SCHEDULE YOUR APPOINTMENT »

---
Smoking Cessation | (217) 726-0422