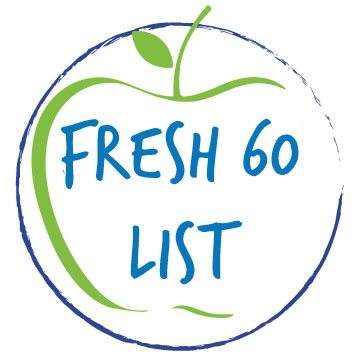 The Fresh 60 List is a meal plan created by our office to take the guesswork out of what to eat. For eight weeks you will receive seven days worth of new meal ideas for breakfast, lunch, a midday snack and dinner. All of these recipes follow the ultimate goal of eating anti-inflammatory foods.
SIGN UP FOR ONE FREE WEEK! CLICK HERE.
Some things you could expect if you stick with it are:
You'll look better
o Eating a better diet will have dramatic changes in body composition. We want a body that is higher in muscle than it is in fat. This is very difficult to accomplish with the standard American diet
You'll feel better
o With better food comes better digestion. Health within the body comes from the gut. If you are not giving your body the nutrients it needs it cannot optimally function. Many people feel bloated and lethargic after meals. Food should be thought of as fuel, not fun
You'll have more energy
o Inflammatory foods are harder to break down in the digestive tract so your body will spend excess energy trying to digest it. Certain types of foods will cause fatigue and brain fog the next day while your body is trying to get it out of your system. People can drink a pot of coffee and still feel tired. It is only when the offending food is out of your system that you will start to feel better.
You'll lose weight
o When you start cutting out the simple carbohydrates your body will stop producing as much body fat. The higher the muscle mass the more calories you will burn throughout the day. A pound of muscle burns a lot more calories than a pound of fat.
You'll prevent disease
o Most diseases are the result of chronic low grade inflammation that comes from years of eating bad foods. These diseases can range from thinks like high cholesterol and diabetes to heart disease and certain types of cancers.
You'll sleep better
o It should be no surprise that as obesity rates climb so do levels of sleep deprivation. With an excess of simple sugars in the body (which are the most readily available form of energy) it can be very difficult for the body to wind down and rest. Sleep deprivation can lead to a host of other problems.
You'll live longer
o When you combine all of the above benefits it is easy to see how you would live longer
Strawberry Fruit Roll-Ups
Ingredients
4 cups strawberries, hulled and chopped

2 tbsp honey
Instructions
Preheat the oven to 170 degrees F or the lowest oven temperature setting. Line a baking sheet with a Silpat mat. Place strawberries in a medium saucepan and cook on low heat until soft. Add in the honey and stir to combine.

Use an immersion blender to puree the strawberries in the saucepan, or transfer to a blender and puree until smooth. Pour the mixture onto the Silpat-lined baking sheet and spread evenly with a spatula. Bake for 6-7 hours, until it peels away from the parchment.

Once cooled, peel the fruit leather off the mat and use a scissors to cut the fruit leather into strips. Roll up to serve, and store in an airtight container.
Notes
Servings: approximately 12 strips