Keep going! Just because winter hits does not mean your exercise routine has to suffer. There are many ways to get a great exercise in during the cold and snowy months. Winter is often a time when people slow down and bundle up because the weather seems a little (or a lot) daunting. When in fact exercising in the winter is important.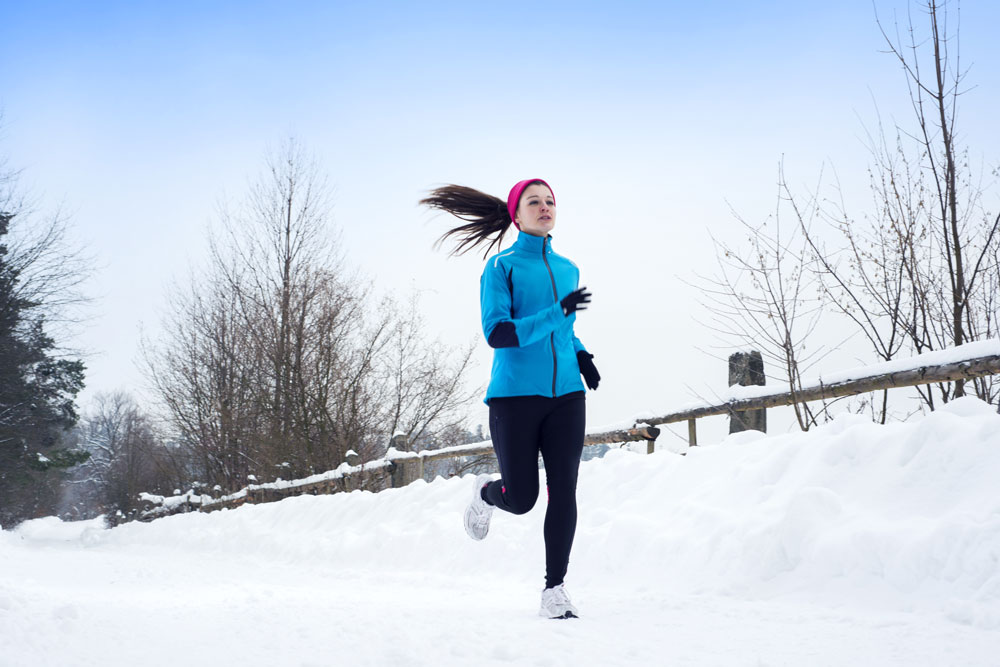 Not moving or getting enough of your blood flowing or enough vitamin D, can wreak havoc on your body and your mood can fall into a negative pattern. Exercise increases oxygen levels in the body aiding in brain cell development. Running and exercise also act as an anti-depressant, studies have shown, by releasing positive endorphins. These are just a few reasons why exercising in the winter and staying with your routine is very important. To help keep you on track. Here are a few tips on how to keep motivated and how to exercise during the cold months!
Warm Up Inside
If you are an outdoor exerciser, start your exercise indoors. Stretch do small aerobic exercises or which ever warm up routine you prefer. Then hit the cold air. By the time you go outside your body will be warm and your shock will be much less. It is harder to acclimate to the weather if you aren't prepared.
Dress Accordingly
Winter can be excruciating and difficult to exercise due to the cold, snow and sleet. But if you know how to dress it can be safe and bearable. When dressing for the winter layers are best. First start with a synthetic material meant to absorbs sweat, since this will be the layer closest to your body. The dress in warm layers like fleece. Then a waterproof layer depending on the weather that day. Once inside be sure to change into dry clothes. Also, don't forget socks, gloves and a hat. You lose most of the heat in your body from your head. It is important to keep warm, dry and know the signs of hypothermia when taking a run or walk outside.
Create an Indoor Exercise Plan
When weather strikes or when you just can't seem to drag yourself outside. Exercising indoors is a great alternative. If you don't have a gym that you are a member of,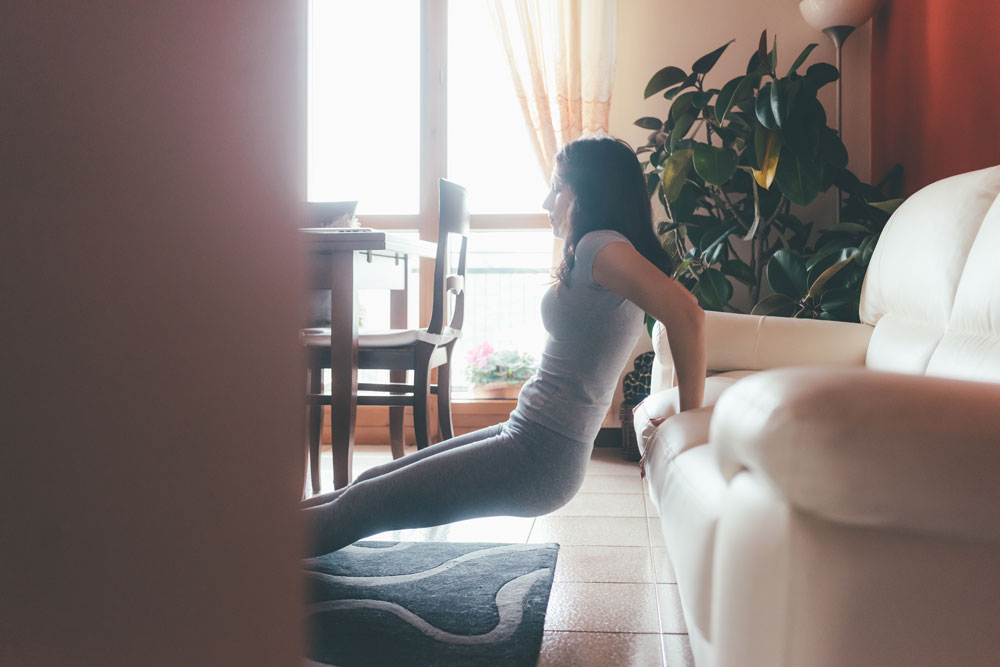 work outs at home can be just as beneficial. If you don't have an exercise you like at home – give ours a try (feel free to adjust to your needs and level)!
Cardio
Dancing – 20 minutes
Floor Core
Reverse Crunch – 25 reps x 3
Shoulder Bridge – 25 reps x 3
Reclined Twist – 25 reps x 3
Fire Hydrant – 25 reps x 3
Strength
Step Up – 10 to 20 reps x 3
Couch Tricep Dips – 10 to 20 reps x 3
Get Up – 10 to 20 reps x 3
Dumbbell Row – 10 to 20 reps x 3
Stretch to cool down – 10 minutes
Take a Buddy with You
Friends can hold you accountable. If you make plans to exercise with a friend, you are less likely to bail on the exercise you have that day. Plus, working out with a friend can be more fun. Having a friend with you, if you are exercising outdoors is safer, especially if the conditions are wet. Tip: if your spouse or partner is not part of your exercise routine, ask them to be! When your partner is focused on living a healthier life, you are too!
Focus on Your Goals
Remind yourself why it is important to keep going during the winter months! If your goal is to stay at your weight that you hit during the summer, keep that momentum and don't let the winter ruin it. Weight isn't important though; if you simply just want to continue feeling healthy and like your best self – keep going! You can do it and the winter shouldn't hold you back!
If you haven't started exercising and want to, or you just need a little extra push to continue down the right path, join us at our upcoming event!
JOIN US AT OUR SELF-CARE OPEN HOUSE WITH BRUNCH & MIMOSAS!
Join us for:
Yoga Class (8:30am, RSVP REQUIRED – Space is limited)
Brunch begins after yoga
Anti-Gravity Treadmill
Chair Massage
Cold Laser Therapy
Normatec Compression Boots
Chiropractic Spinal Screenings
& more!
WHEN: October 5, 2019
WHERE: Springfield Wellness Center Facility
1000 S Durkin Dr Springfield, IL 62704
WHAT TIME: 10AM-1PM